Second Life and MLM Distributors
Should an MLM distributor take the time required to learn about Second Life and become involved?
The learning curve in Second Life and MLM can both be a bit steep. It may take 3 or 4 hours just to get signed up and into the virtual world with enough skills to do the basics. How long did it take you to understand the basics of your MLM?
Is it worth it?
YES YES YES YES.
Imagine a world where you are mostly anonymous. You are able to take on an appearance you wish to have, not the one you were born with. A world where people may judge you on your Second Life, not your First One.
Translation, a world where EVERYBODY is equal.
Second Life and MLM go hand in hand as far as I we are concerned.
Now imagine that world has 20,000 new people per day getting involved. All potential prospects.
Get a Second Life For FREE NOW! You will Not Regret it!
Dell, IBM, APPLE and more companies have significant presences in this online world to keep a fresh face of hipness attached to their company.
This is not a computer game, this is mainstream business and commerce
Get a Second Life For FREE NOW! You will Not Regret it!
You will get hooked on the fun of it all, and at the same time, you will meet others in the virtual world.
Some of those others will ask what you do, you will have an unending stream of people you can go literally bump into in this fascinating world.
It is worth it.
More numbers...
Second Life Time: 1:38 pm PDT
Total Residents: 6,048,590
Logged In Last 60 Days: 1,719,462
Online Now: 38,278
It is Worth it!
Get a Second Life For FREE NOW! You will Not Regret it!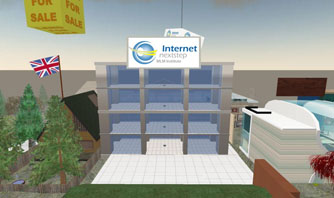 Second Life MLM Training Institute
Get a Second Life For FREE NOW! You will Not Regret it!
How can INS help you with Second Life and MLM
Second Life MLM Training Institute to teach you how to Prospect in Second Life
Rent Presentation Kiosks for you to make in world presentations available.
Rent or Sell Land in Second Life for you to make your own Presence, or you can learn to do it yourself too!
Help you get your MLM Company a Presence in Second life to further enhance your prospecting power.
MLM training and live presentations to help you further your MLM business both in Second Life and out.
Get a Second Life For FREE NOW! You will Not Regret it!
Once you are Inside Second Life Instant Message (IM) me Ins Watanabe and I will add you to our group and set you up with some great FREE stuff!

---
Frature Product
Second Life BizOpp Mall with Presentation Kiosks
Second Life Ready Made Presentation Room
Second Life basic presence for collaboration and training
Second Life building and customizing to make your 2nd life "sticky"
InternetNextStep.com Can help show you the way. The first step to your Second Life to propel you beyond your competitors is to Get a SecondLife and it is FREE. Follow the link below to sign up as a new member as well as get to our location to learn more In World!